CCTV Services and Solutions
CCTV Solution Design
CCTV is part of a multi-layered security approach, a system design should begin with the needs of the client
Maintenance and Service
GAC will assist with site repairs and maintnace. We also offer various service agreements, available to suit each individual clients needs.
Offsite Monitoring
The ideal solution for guard enhancement. We also offer this service to the farming community and our clients in small industrial areas.
Commercial, Business & Industrial Security System Specialists
GAC Risk Solution specializes in a range of security and surveillance systems such as CCTV Analogue, IP and Video Management Software.
We offer Access Control and Off Site Monitoring as value added service to our guard solutions and to our clients
With a strong foothold across Pretoria, and our operations are across South Africa.
We serve various industries and meet a variety of security and surveillance needs for both small and large enterprises.
Perimeter Protection
FLIR is the world leader in providing the most complete and advanced thermal security cameras for critical infrastructure. Combined with Latitude VMS, Cameleon Physical Security Information Management (PISM) software, and smart analytics, FLIR provides 24/7 perimeter protection performance in the most adverse conditions.
United/ Latitude VMS
FLIR's United VMS is the most powerful way to integrate and control FLIR thermal and visible cameras and supporting technology. United VMS also supports analytics, PTZ tracking, and hand-off from fixed to PT cameras. It is intuitive to use, has scalable architecture, enhanced cyber security, and an open-platform design that integrates with third party system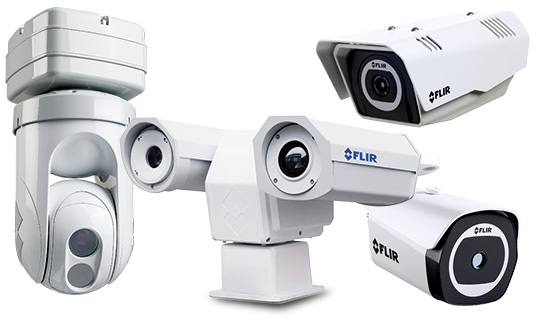 Thermal Security Cameras
FLIR thermal cameras see far along fence lines by detecting the heat of intruders at great distances. Our on-board analytics and PTZ tracking capabilities offer even greater accuracy and identification, so you'll know the most appropriate response

ON-SITE SECURITY EVALUATION REQUIRED?

Hikvision is a world leading provider of security products and solutions. Featuring an extensive and highly skilled R&D workforce, Hikvision manufactures a full suite of comprehensive products and solutions for a broad range of vertical markets. In addition to the security industry, Hikvision extends its reach to smart home tech, industrial automation, and automotive electronics industries to achieve its long-term vision. Hikvision products also provide powerful business intelligence for end users, which can enable more efficient operations and greater commercial success.
Security requirements vary. That is why Hikvision designs and tailors network cameras to meet various needs – from general video surveillance to video content analytics based on Deep Learning algorithms – and beyond.
Rendering high-quality images across a range of lighting conditions – while minimizing requirements on storage and bandwidth – and providing data-powered situational awareness to help you make smart decisions, our network cameras are the ideal choice for hundreds of application scenarios.